The OSGeo-live  project is probably one of the most useful and best projects when it comes to put freeware and open-source software in an easy to use environment.
The approach using a live DVD is ideal to:
test various software prior to real installation
for teaching purposes
for installations on older hardware since the unerlying XUBUNTU (derived from UBUNTU) does requires less resources than e.g. a Winows 7 installation
An other advantage is the familirasation with linux (when wished) and a lot of programs (QGIS, GRASS etc) tend to work better and more stable in a linux environment anyway. It is maybe at the present (2011/2012) the software compilation you should have a look at if you are interested in using GIS and RS software in particular with respect to disaster management or for teaching purposes.
From their website:
"OSGeo-Live is a self-contained bootable DVD, USB thumb drive or Virtual Machine based on Xubuntu, that allows you to try a wide variety of open source geospatial software without installing anything. It is composed entirely of free software, allowing it to be freely distributed, duplicated and passed around.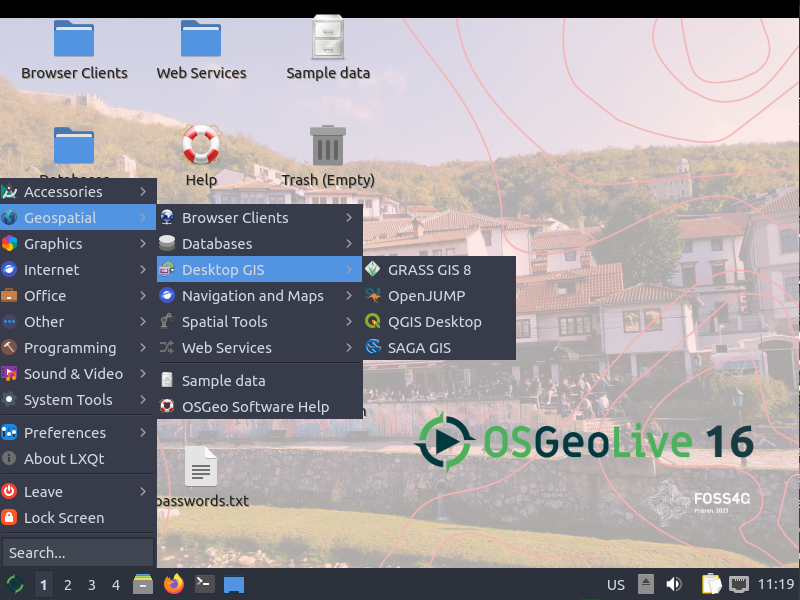 It provides pre-configured applications for a range of geospatial use cases, including storage, publishing, viewing, analysis and manipulation of data. It also contains sample datasets and documentation.
To try out the applications, simply:
Insert DVD or USB thumb drive in computer or virtual machine.
Reboot computer. (verify boot device order if necessary)
Press "Enter" to startup & login.
Select and run applications from the "Geospatial" menu."
Many applications are also provided with installers including OSX and Microsoft Windows.